Roll over image to zoom in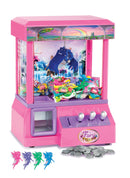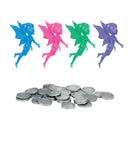 Description
"Fairy Tale Arcade Claw with Bonus 4 Fairy toys! ARCADE CLAW MACHINE enjoy watching the kids gather around this fun prize machine and squeal with joy as they try to GRAB the prizes.
Fairy Tale Arcade Claw Machine 
4-Fairies 
30 plastic coins  
3xD batteries are required and not included
It's hours of fun for children and adults and perfect for parties. You can keep the prize or put it back in the machine for unlimited fun. Comes with 4 Fairy toys (2.5 inches high). And 30 plastic toy coins but you can also use real coins! FUN, ACTION, LIGHTS, MUSIC it's just like a classic candy claw machine at the arcade. Featuring authentic arcade machine-style music.
An ideal present for kids and grandchildren for their birthday or for teachers to fill with classroom prizes is A GAME OF CHALLENGE AND SKILL try to grab the claw machine prizes and drop them into the dispenser before the music stops, and keep focused on the prize. This mini arcade game is recommended for children aged 8 and upWHATS INCLUDED The kid's claw machine measures 13.5 x 10 x 7.5 (H x L x W) and includes 30 plastic coins for play and 4 fairies.
The candy machine dispenser hole measures 2.5 x 2.5 inches FILL WITH PRIZES load the tabletop claw game with your choice of small toys, kids' party favors, candy, and gum. Use the included token coins to activate the crane game, then use the 3 joy control sticks to control the single claw to move it up / down / left and right to pick your prizes We have all tried our luck at grabbing a favorite candy or toy from the big claw machine in the local arcade or fair.
Kids can develop patience, confidence and creativity, and improve their hand eye coordination all while having fun. Can you grab a prize before the music stops?
Don't be distracted and keep your eye on the prize. The Claw Machine works just like the popular arcade game and is a game of challenge and skill with easy-to-follow steps: Insert provided coin: Once your coin or token is in the machine the music starts playing. Use the 3 joystick controls: When you have the claw over the candy or toy you want lower the claw and grab the treat. Prize Time: The crane machine delivers the treat through the chute. This would be a fun addition to any office, den, or living room, and seem endlessly fun to play with. It is recommended for ages 8 and up.

Featuring authentic arcade-style music, it's perfect for birthday parties and makes a fantastic gift for your little loved one. Adults love it too, what would you fill it with?"

Payment & Security
Your payment information is processed securely. We do not store credit card details nor have access to your credit card information.
Kids Eye Candy
Kids Eye Candy