Roll over image to zoom in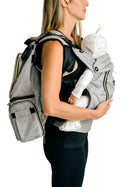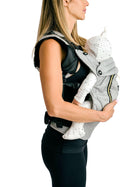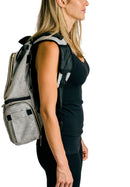 Description
The Lublu HugBag includes a lightweight backpack diaper bag in your choice of colors available. The backpack diaper bag has over 16 separate compartments/pockets so you can keep everything neat and organized. The center zip gives you access to everything without digging, and a 14" deep side pocket to fit larger items. 
You'll also receive the attachable Lublu Baby Carrier which folds up and fits perfectly into a side pocket of the backpack. The baby carrier only takes up 20% of the bag and gives you space to pack all other baby needs.
Certified by the Hip Dysplasia Institute, our carrier is ideal for babies up to 45 lbs. 
Designed for ultimate comfort, safety, and efficiency the carrier is available when you need it most!
Backpack/Diaper Bag 
Baby Carrier 
FREE diaper changing pad
Backpack/Diaper Bag FEATURES:
16 separate compartments/pockets 
14" deep side pocket for larger items 
Pockets on shoulder straps for quick access to smaller items like pacifiers, phones, or keys
Shoulder straps detach to easily convert into a baby carrier
Stroller Clips
Size: 5"L x 14" W x 18" H 
Baby Carrier FEATURES 
Front zippered pocked can be unzipped for breathability
Head cushion to be adjusted based on child's age 
Padded waistband for comfort 
Shoulder straps with built-in clips so you never drop a pacifier or toy
Size: 7" L x 5" W x 6" H
Weight Capacity: 45 lbs
Payment & Security
Your payment information is processed securely. We do not store credit card details nor have access to your credit card information.
Kids Eye Candy