Roll over image to zoom in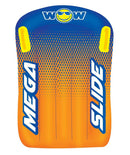 Description
Looking for something special for your kid's next backyard birthday party? We think we have the perfect party favor for you. The Mega Slide is a giant 25′ x 6′ slippery water slide with built in sprinkler that will keep the kids entertained all day long. 
No need to add dish soap to keep this slide slippery. Our zig-zag patterned, 25′ embedded sprinkler system connects to the standard backyard hose, runs the length of the slide and has 100% water coverage so no dry spots. We also installed sidewall pontoons to keep the water on the slide as well as your kids! Our favorite feature is the customized connection system we added to the ends of each pontoon, so you can purchase 2 or more of slides and connect them all together for an even longer slide and twice the fun! Each slide comes with 2 Sleds to cushion the fall and make the slide even more slippery. There, you now have everything you need to put on a great summer backyard party for your kids.
25-FT slide  
2-sleds  
Pumping station
Instruction(s)
FEATURES:
Giant 25 foot by 6-foot Backyard Water Slide
Zig Zag spray pattern sprinkler system runs the length of the slide for awesome water coverage for great sliding
Connects easily to your backyard water hose
Extra-thick, heavy-duty PVC. More than twice as thick as most lawn slides on the market
Super-slick non-embossed PVC so no need to add soap
8″ high side-wall pontoons to keep the sliders and the water on the slide
Comes with two 36″x"24″ Sleds to soften the impact on the ground when sliding and for a more slippery ride
Customized connection system to connect as many slides together as you want. Make your own 100-foot slide
Patented Design
Easy setup
1-Year Warranty
Payment & Security
Your payment information is processed securely. We do not store credit card details nor have access to your credit card information.
Kids Eye Candy
Kids Eye Candy